Hebron Series - 3-Arm Cluster Pendant
Model Number
Lamping Code
Body Lamping
Down Lamping
Circuit
Finish
Diffuser
Mounting
Louver
Options
IES

HB2724U

Dimensions:

• W 38

• HT 32

• OAH 96

(OverAll Height)

• Y 3 @ 12"x24"

FKV
9-100W A21 (900W)
3-100W A21 (300W)
2
PC
AD
AG
ST
SP
CR
SQ
SIL
LOGO

---

HB3026U

Dimensions:

• W 42"

• HT 34"

• OAH 120"

(OverAll Height)

• X 3 @ 14"x26"

DQK
43,600lm LED (258W)
21,400lm LED (139W)
2
PC
AD
AG
ST
SP
SQ
D1
LOGO
SIL
DQM
69,300lm LED (436W)
37,600lm LED (255W)
2
PC
AD
AG
ST
SP
SQ
D1
LOGO
SIL
FKW
18-60W A19 (1080W)
3-100W A21 (300W)
2
PC
AD
AG
ST
SP
CR
SQ
SIL
LOGO

---

HB3931U

Dimensions:

• W 53"

• HT 39"

• OAH 120"

(OverAll Height)

• X 3 @ 16"x31"

DQN
43,600lm LED (258W)
37,600lm LED (255W)
2
PC
AD
AG
ST
SP
SQ
D1
LOGO
SIL
DQO
69,300lm LED (436W)
37,600lm LED (255W)
2
PC
AD
AG
ST
SP
SQ
D1
LOGO
SIL
DQP
88,700lm LED (575W)
37,600lm LED (255W)
2
PC
AD
AG
ST
SP
SQ
D1
LOGO
SIL
FKX
18-60W A19 (1080W)
3-100W A21 (300W)
2
PC
AD
AG
ST
SP
CR
SQ
SIL
LOGO

---

HB4836U

Dimensions:

• W 64"

• HT 44"

• OAH 120"

(OverAll Height)

• X 3 @ 18"x36"

FYV
69,600lm LED (436W)
37,600lm LED (255W)
2
PC
AD
AG
ST
SP
SQ
D1
LOGO
SIL
FYW
94,900lm LED (634W)
37,600lm LED (255W)
2
PC
AD
AG
ST
SP
SQ
D1
LOGO
SIL
FKY
27-60W A19 (1620W)
3-100W A21 (300W)
3
PC
AD
AG
ST
SP
CR
SQ
SIL
LOGO
SAMPLE CATALOG NUMBER
Model Number - Lamping Code - Finish - Mounting - Diffuser - Options
Scale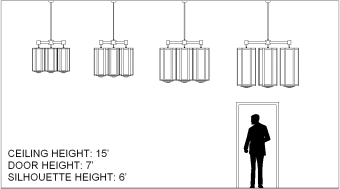 PRODUCT FEATURES
Fabricated and welded metal housing
Powder coated metallic finish
UV stable, white acrylic diffuser (Standard)
Optional specialty diffuser materials available
Energy efficient LED or fluorescent lamping
Wired for dual circuit operation (Body Lamping/Down Lamping)
High power factor electronic ballast or LED driver
Incandescent lamping is Triac or ELV dimmable - consult lamp and dimmer manufacturer for compatability.
Optional dimming ballast 120V or 277V (LED or fluorescent lamping)
Fixture may be Chain or Stem hung (extra length may be added, specify OAH) (OAH - Over All Height - is the length from the ceiling to the bottom of the fixture.)
Mounts to standard 4" octagonal electrical junction box (by others), Box requires additional structural support (by others)
For slopes greater than 35 degrees (from horizontal) order steep pitch adapter (Stem only)
UL / cUL or ETL / cETL listed
Contact Us for more lamping options.
Abbreviation Key
Dimensions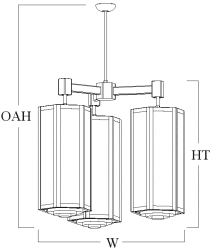 Lamps
100W A21
Medium Base, 100W Max, Incandesent or LED
60W A19
Medium Base, 60W Max, Incandesent or LED
Finish Types
Diffuser Types
AD
Standard Acrylic Diffuser
AG
Premium Glass Diffuser
Mountings
SP
Steep Pitch Canopy for Stem
Louvers
Dimming
D1
LED 0-10v dimming options include integral 120-277v dimming drivers
Options