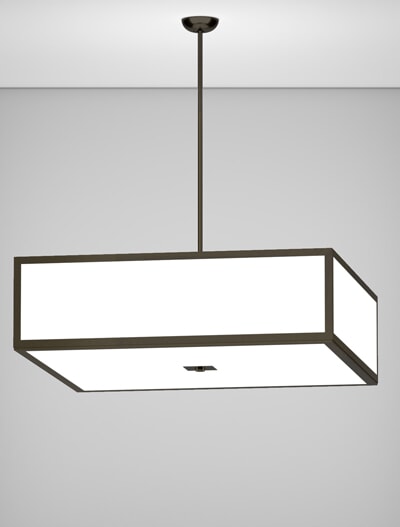 Billings Series - Pendant
Click on a finish sample below to change fixture color:
More Finishes Available
Model Number
Lamping Code
Body Lamping
Circuit
Finish
Diffuser
Mounting
Louver
Options
IES
PDF
BIM

BI2408L

Dimensions:

• W 24"

• HT 8"

• OAH 36"

(OverAll Height)

GKV
8,600lm LED (58W)
1
PC
WA
ST
SP
BL
D1

---

BI3610L

Dimensions:

• W 36"

• HT 10"

• OAH 60"

(OverAll Height)

GKU
11,600lm LED (63W)
1
PC
WA
ST
SP
BL
D1

---

BI4211L

Dimensions:

• W 42"

• HT 11"

• OAH 60"

(OverAll Height)

GKT
15,700lm LED (87W)
1
PC
WA
ST
SP
BL
D1
SAMPLE CATALOG NUMBER
Model Number - Lamping Code - Finish - Mounting - Diffuser - Options
Scale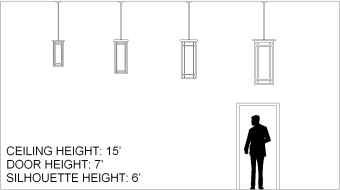 PRODUCT FEATURES
Fabricated and welded metal housing
Powder coated metallic finish
UV stable, white acrylic diffuser (Standard)
Optional specialty diffuser materials available
Energy efficient LED lamping
High power factor electronic LED driver
Wired for dual circuit operation, Body Lamping and Down Lamping
Standard LED CCT is 3000 Kelvin - contact us for alternate color temperature availability
Standard LED CRI is 80 - contact us for alternate CRI availability
Incandescent lamping is Triac or ELV dimmable - consult lamp and dimmer manufacturer for compatibility.
Standard LED dimming is 0-10v
Optional line voltage (Triac or ELV) LED dimming is available - consult for compatibility
Fixture is Stem hung (extra length may be added, specify OAH) (OAH - Over All Height - is the length from the ceiling to the bottom of the fixture.)
Mounts to standard electrical junction box (by others), Box may require additional structural support (by others)
For slopes greater than 35 degrees (from horizontal) order steep pitch adapter (Stem only)
UL / cUL or ETL / cETL listed
Contact Us for more lamping options.
Abbreviation Key
Dimensions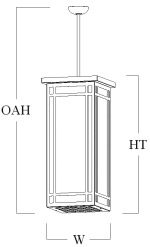 Finish Types
Diffuser Types
WA
Standard Acrylic Diffuser
Mountings
SP
Steep Pitch Canopy for Stem
Louvers
Dimming Types
D1
LED 0-10V low voltage control dimming